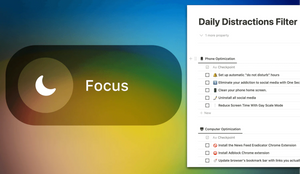 Tired of endless scrolling and never-ending pings diverting your attention?
Stop Me If this sounds like you
➡️ You're exhausted from trying to fight off social media distractions and not seeing the business growth you've been craving.
➡️ You know you have the potential to skyrocket your business, but you're continually sidetracked by digital disturbances.
➡️ Despite your best efforts, it seems as though your distraction levels are only increasing, sabotaging your productivity.
This is why we built the Daily Distraction Filter
This checklist filters out 40-70% of daily distractions, and save you hundreds of hours every month.
You'll be able to use this system even if...
You believe you are a social media addict
You struggle with procrastination and find yourself constantly multitasking.
You find it hard to concentrate because of open office or remote work distractions.
All without...
Buying expensive or complicated software
Giving up social media entirely
Sacrificing your work-life balance
Who is this for?
For busy entrepreneurs who are tired of distractions thwarting their progress
For those who are unsatisfied with their daily productivity despite seemingly endless "work" hours.
What you'll be learning
✅ The one time 15-minute exercise that removes 40-70% interruptions daily
✅ How to turn your phone and computer into real productivity machines
✅ An easy way to make your workplace clean and "inspiring"
✅ A tiny habit to break your Netflix binge-watching and use procrastination to your advantage.
✅ How to Dramatically Reduce Screen Time without Giving Up Social Media
Let the Daily Distraction Filter help you complete your tasks efficiently and give you the satisfaction of a productive day well spent.